Review
Pure relaxation at the amazing Sundays Beach Club
Published: September 15, 2019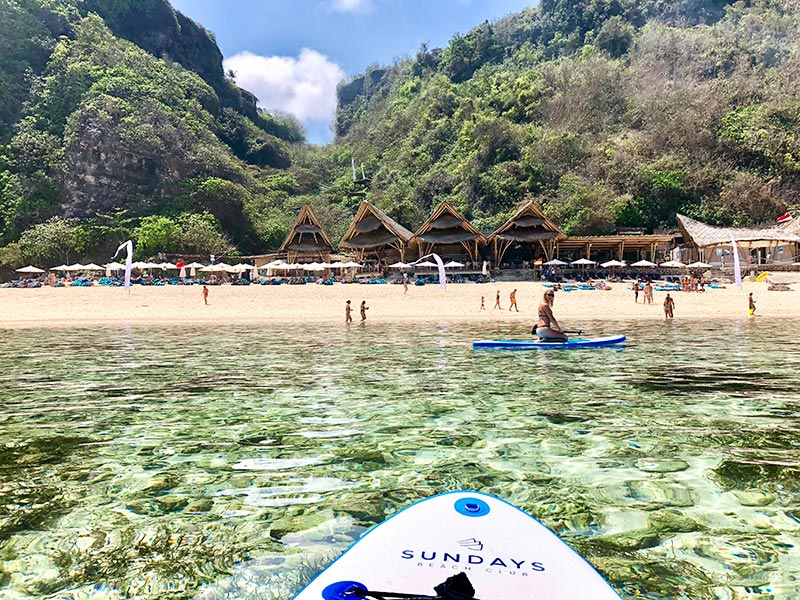 Hidden below some cliffs in Uluwatu you find what can only be described as: paradise on earth.
Big words, but Sundays is truly something special. We spent a full day at the beach club, and when the sun started to set and it was time to leave, we just wanted to start all over agian.
Getting there
Finding Sundays Beach Club can be a bit of a challange, so Google Maps is definitely your friend. It is located in connection with Ungasan Clifftop Resort, so that is the first marker. There is a large parking for scooters (if you arrive on two wheels, like we did), and from there you head over to the end of the resort.
Down some stairs and you arrive at the elevator taking you all the way down. The tip is to be early, to avoid a long line. Being early includes other perks, like grabbing the best spots on the beach. If you do have to wait a bit before the elevator arrives it is no big problem, then you can enjoy the fantastic views over the ocean and down towards the beach.
Setting
You have to pay about 400k to take the elevator down and enjoy the beach club, but it is more than well worth it. Here you find a beautiful, long and golden beach, and thanks to the reef, also a very calm ocean. Quite rare in Bali.
Seatings come in a bit different form and shapes, but the winner is definitely the large bean bags lining one side of the beach club. You get your towel (included) and settle down, and looking out over a calm Indian Ocean you don't really have to move all day.
But move you should, as there is lots going on at the Sunday Beach Club. There are Stand Up Paddle-boards and snorkel gear available to use for free. The beach also continues outside of Sundays perimeters, so you can go for beach-strolls in one direction and find more secluded swimming spots in the other.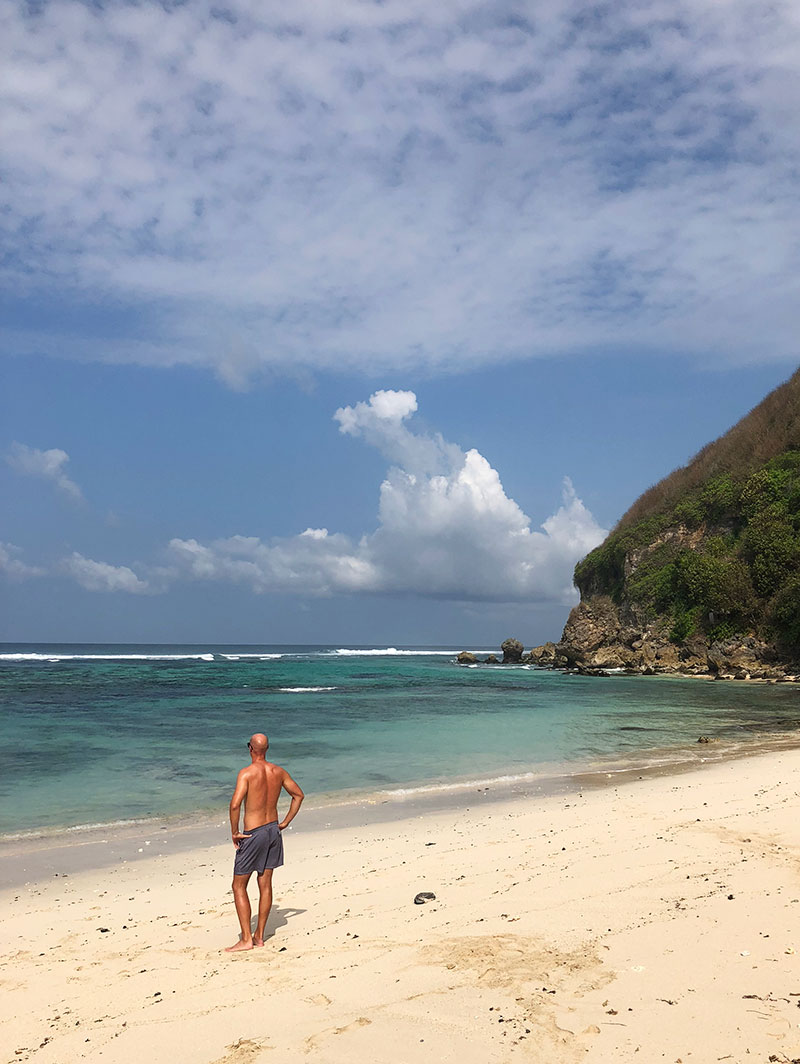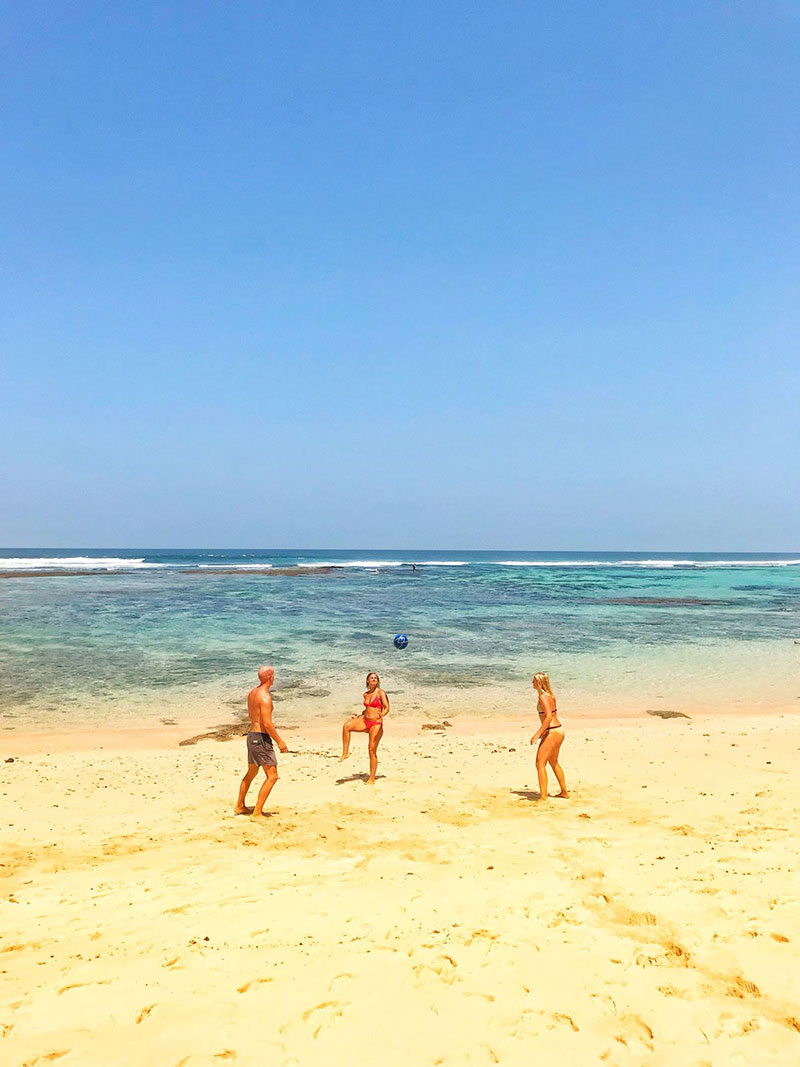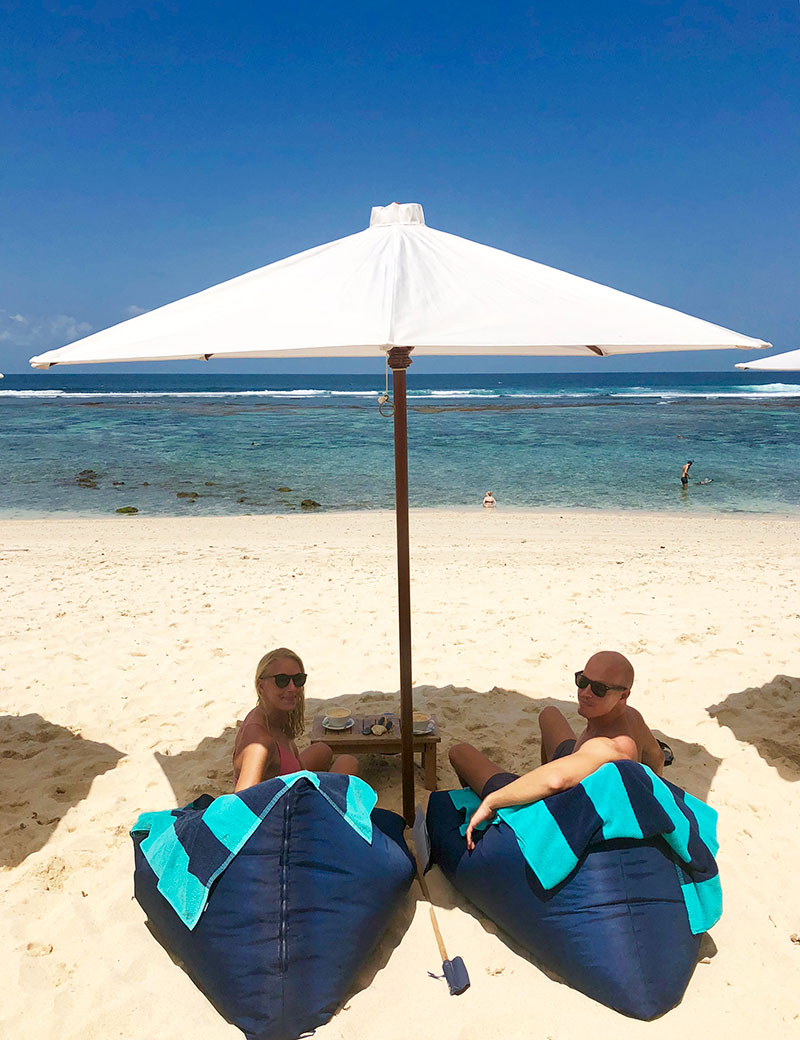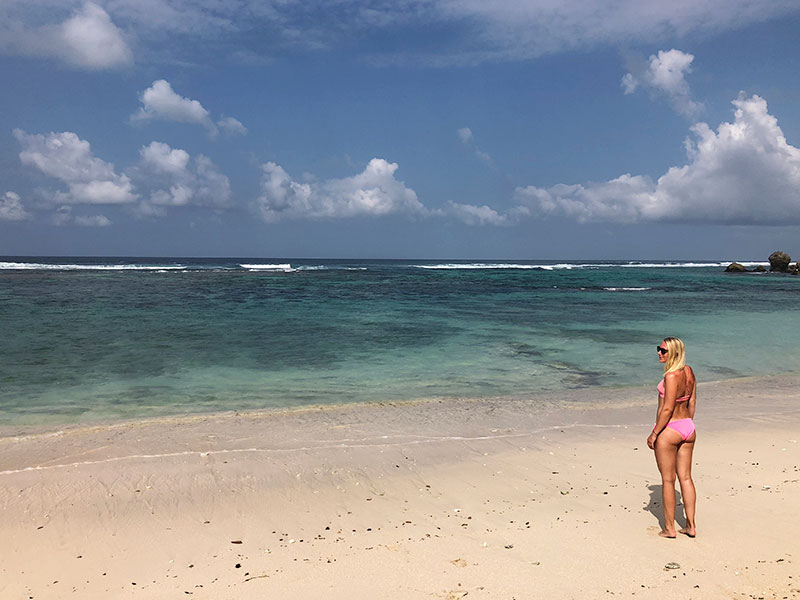 The atmosphere surrounding Sundays is very relaxing. We arrived quite early and managed to get some great spots, but they did fill up quickly. And even though the crowd grew larger as the day passed, it was still very chill vibe, and it did not feel cramped.
All amenities needed was available, including showers.
The sun disappears behind the large cliffs a while before sunset (another reason to be in good time), and we left pretty soon after that. But others arrived at this time to enjoy the bonfire at sunset and maybe a more vibrant atmosphere.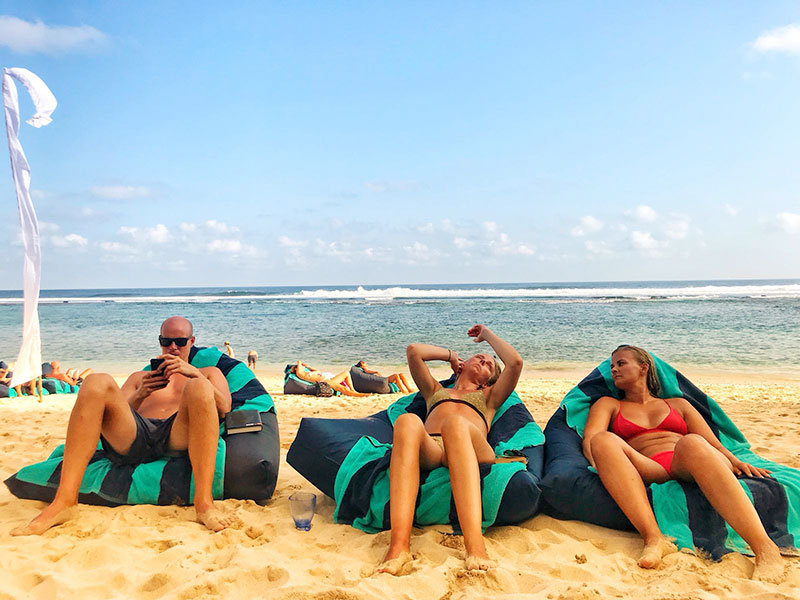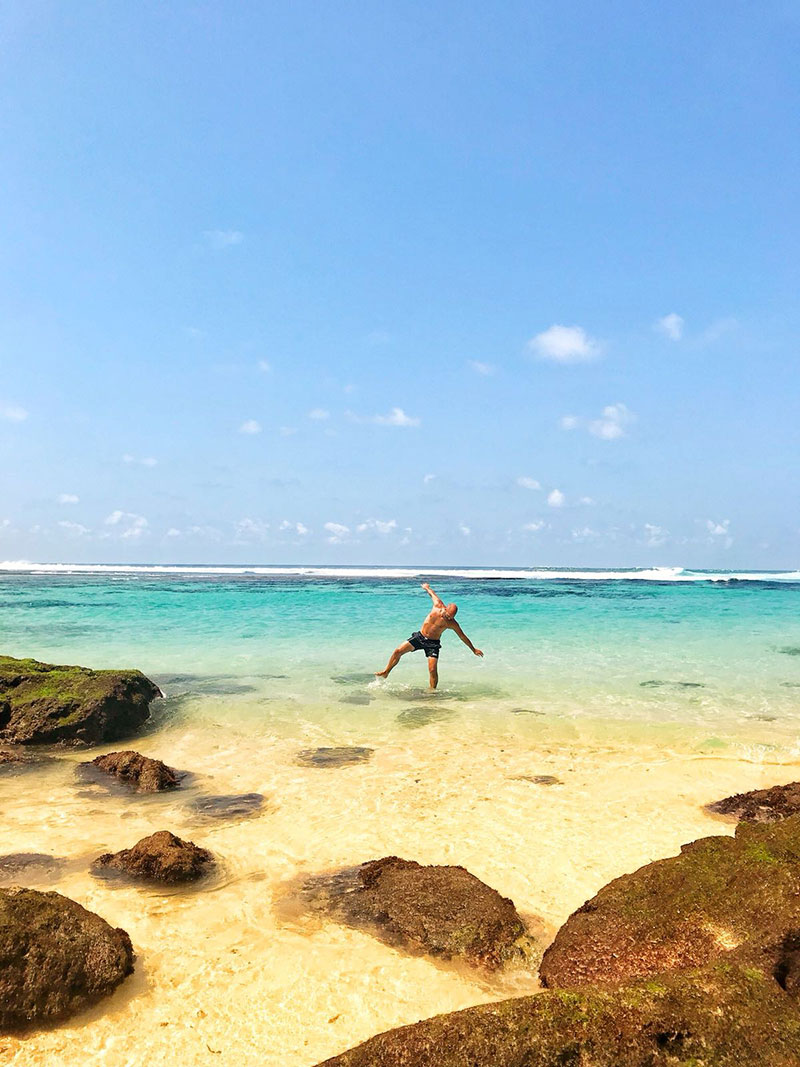 Food & Drinks
You get a menu at your spot at Sundays, and you can order drinks and some food served right on the beach. We did this with both coffee and some very refreshing fresh juices. Perfect start to the day!
So while you can eat at drink right on the beach, we went over to the open and stylish oceanfront restaurant for lunch. The menu is quite large and holds both seafood, bowls, grill, local favourites and a burger bar. We tried a bunch of different dishes, all very tasty and most of all very fresh.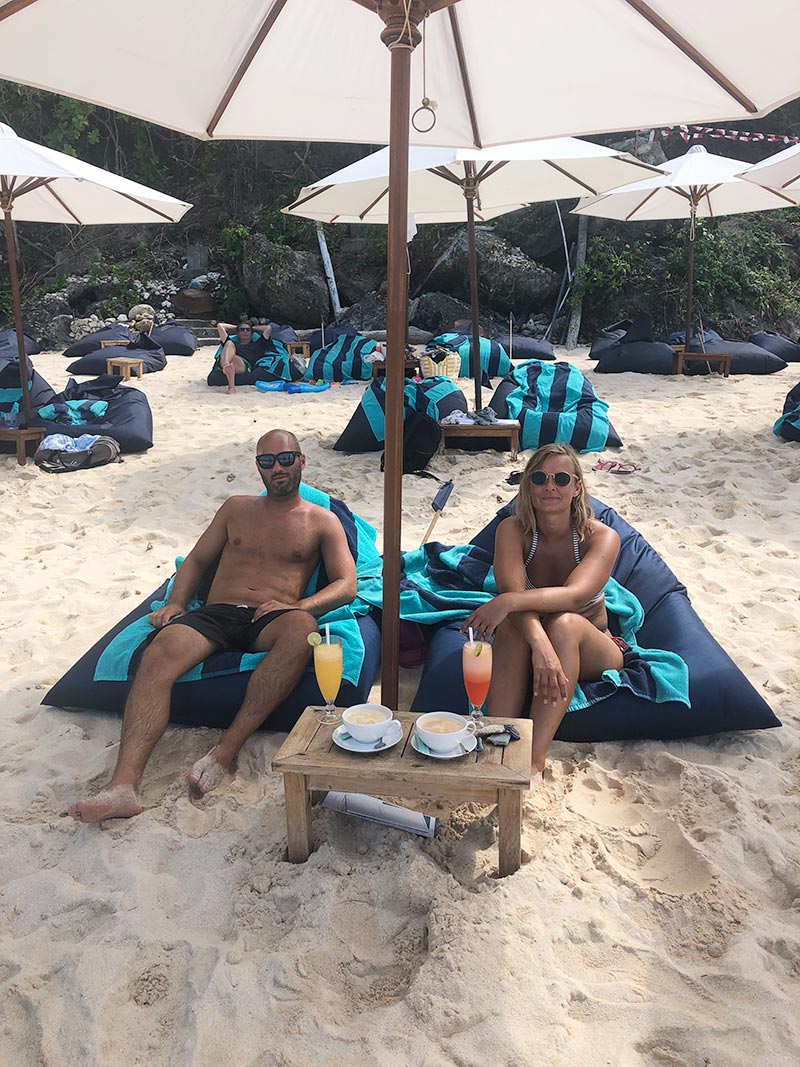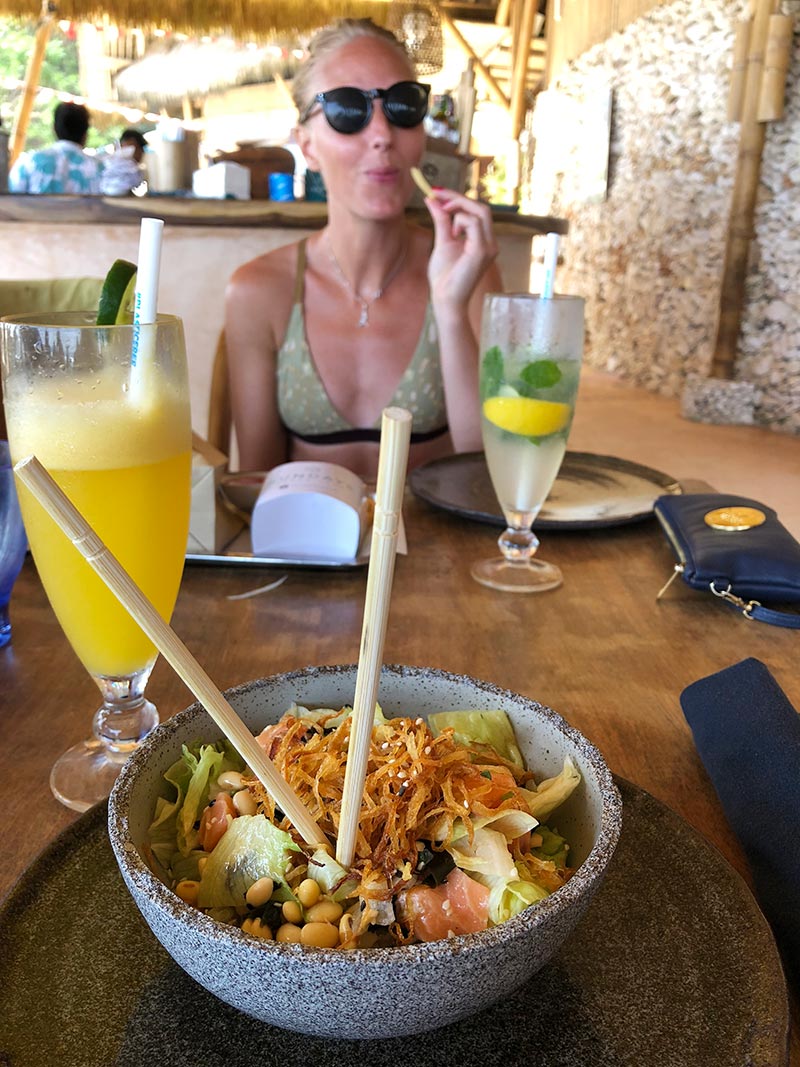 Conclusion
Easy to guess, Sunday Beach Club is so highly recommended! Come early (it works on first come, first served) and enjoy the fantastic beach, a calm ocean and very comfy bean bags.
You can spend a whole day just relaxing under an umbrella, or you get more active with different watersports. The beach is also large, so you can stuff like kick a ball. And then you eat, preferably a lot, of the very tasty food.
Summary

• Comfy bean bags
• Calm ocean
• Fantastic beach
• Fresh & tasty food
• Relaxing atmosphere
• Beautiful
---